The Panavia Tornado Preservation Group are proud owners of ZA326, the world's only Tornado GR.1P aircraft.
ZA326 (cn 016/BT006/3008) was the eighth production Panavia Tornado, and one of the initial 23 RAF IDS aircraft to be built to Batch 1 standard, intended for TTTE. Construction begun in July 1979 and a number of engine runs were performed at BAE Systems Warton between 15th-22nd July 1980 before a severe fire which destroyed the rear of the aircraft on 30th July 1980. The devastation was later found to be caused by recirculation valves not operating correctly, resulting in over-pressurisation of the return fuel pipe.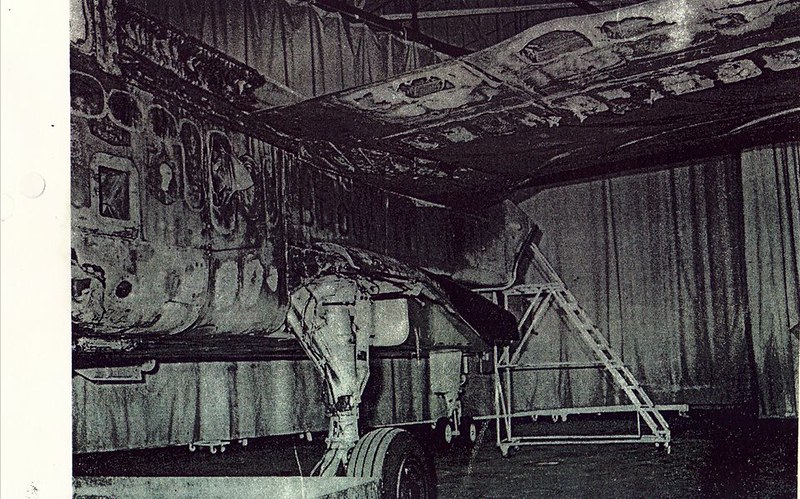 Eventually repaired with a set of Batch 2 wings and a Batch 6 rear end, ZA326 first flew on 31st March 1983. Painted in the Royal Aircraft Establishment "Raspberry Ripple" colour scheme, it was assigned to the Flight Systems Department at Thurleigh, near Bedford.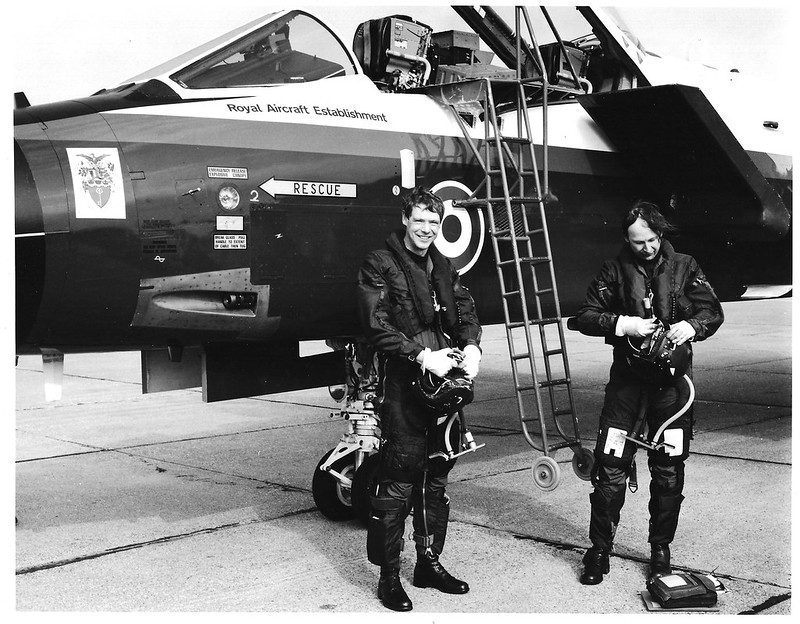 ZA326 spent its entire 22-year career as a trials aircraft, taking part in the development of terrain-following radar, all-weather approach, cockpit voice recognition and stores/weapons carriage research. In 1997 it flew a DB-110 camera in a demo pod, a capability which was subsequently developed into the Reconnaissance Airborne Pod for TORnado (RAPTOR).
On its final flight on 13th December 2005, ZA326 was the last Tornado GR.1 flying anywhere in the world. Dave Southwood was at the controls for that historic occasion, and wrote about the experience for the Boscombe Bulletin:
On the 13th December 2005, the last remaining Tornado GR1, ZA326, made its final flight from Boscombe Down, its home since 1994. It had provided stalwart service to Fast Jet Test Squadron and to the Empire Test Pilots' School, but had doubtless been a significant workload burden for Boscombe ATC. Why? Well, for those who are unfamiliar with the Tornado, in any abnormal configuration (single engined, flapless, swept wing) it flies around the instrument pattern at 300 kts and can be as fast as 230 kts on final approach. And for those unfamiliar with Boscombe Down, you have to combine these approaches with helos on PAR, Tutors operating to a very close parallel runway, and light aircraft operating from a grass strip between the two runways. And just for good measure, in the hands of ETPS the front seat student pilot in the Tornado is usually on his first or second sortie on type, may be from a multi-engined background, and often is not a native English speaker. And did I forget to mention that the instructor in the rear seat cannot, effectively, see forwards?




So, why was 326's last flight even worse than this? Many of the personnel at Boscombe Down have a great interest and take much pride in the aircraft on which they work. It was felt that it was appropriate to reward them for all of their hard work on "326" over the years by showing them the Tornado "at home", at high speed and low level, by making a couple of flypasts of the airfield on its last flight. As ever, the co-ordination of this "non-standard" activity between the pilot (yes, it was me) and the ATC supervisor was done on the 'phone, on the due day, and at short notice.




Me: "On take-off I want to do a steep reheat climb in the overhead and depart on the reciprocal of the duty runway at 5000 ft –ish" (see if you can work out the manoeuvre!).

Supervisor: "OK" (great!)

Me: "On recovery I need the block ground level to FL 240. And I will be manoeuvring in the northern (light aircraft and helo) circuit".

Supervisor: "That's fine." (wunderbar!)




On Take-Off: "Clear VFR to the west, ground level to FL 240". (fantastic!)




During recovery, Tower controller: "Uxx (a UAS Tutor), negative join. Keep well away from the circuit, Tornado flypast in progress". (my lucky day!)




"Tester XX, clear run in, up to FL 240. On passing 3000 ft climbing out, call approach stud 4". Now, trying to explain that on passing 3000 ft I would be pulling 6g and setting up for a vertical roll, and thus changing hands on the stick and looking deep into the bowels of the cockpit, seemed to be a bit of a bridge too far! A simple: "Tester XX, negative. Will stay on tower throughout" met with a polite and sympathetic: "Roger." Great bunch, Boscombe air traffic!




And there were many happy smiling faces going home that evening having seen one of "their" aircraft flying as it was meant to do, a rare opportunity for the lads and girls on the ground in today's climate.




But overall, what am I trying to say? Boscombe Down's flying operations present monstrous challenges for ATC to overcome. The Tornado, ETPS and, I am sure many of the controllers would add, me are major contributing aspects of this challenge! In dear old "326" we have always achieved our tasks, many of which are very non-standard. Without the excellent, flexible co-operation of Boscombe Down ATC this simply would not have happened. Many thanks, and I promise to plan ahead for the next "last flight"!

Dave Southwood, ETPS Fixed Wing Flying Tutor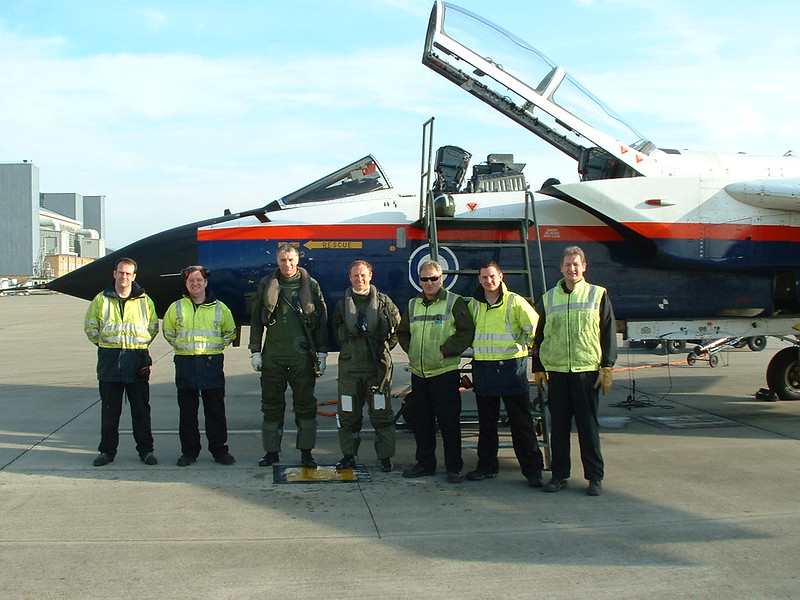 ZA326 was stored at MoD Boscombe Down, until being purchased in 2013 by Elliott Atkins. The aircraft was dismantled and moved by road to the Cold War Jets Collection at Bruntingthorpe where restoration work began. The aircraft had been heavily stripped, and was missing many vital components including both engines, APU, avionics, instruments, seats, hydraulic and fuel pipes.
After five years at Bruntingthorpe, ZA326 was dismantled and moved (again!) by road, to the newly formed South Wales Aviation Museum (SWAM) at St Athan. With the aircraft now safely housed within a hangar restoration continued at pace, with a pair of RB199 engines being sourced and fitted within a month of arrival in the Vale of Glamorgan. By February 2020, after six years of restoration, an almost-entirely complete ZA326 was able to accept AC ground power for the first time in over a decade.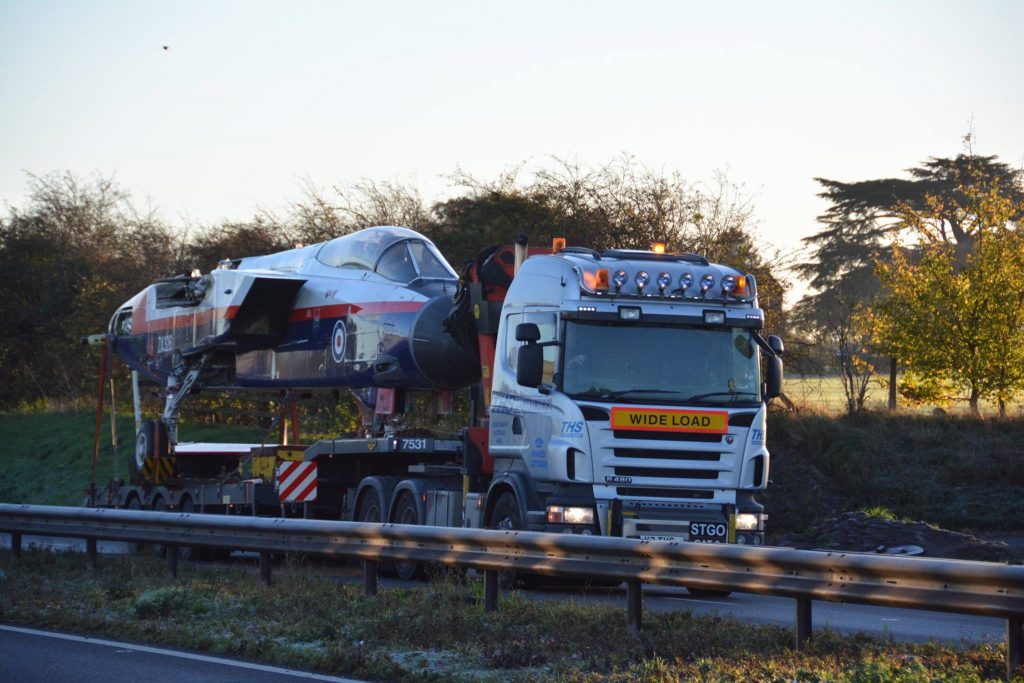 ZA326 is on public display at the museum, where restoration continues.
The Panavia Tornado Preservation Group is a registered charity and relies entirely on public donations to undertake its work.